Day 1 :
Keynote Forum
San Camillo-Forlanini Hospital, Rome
Time : 09:10-09:55

Biography:
Marco Piciche (MD, Ph.D.) is a cardiac surgeon at San Camillo-Forlanini Hospital in Rome. In 2012 he was the Editor in Chief of the book "Dawn and evolution of cardiac procedures: research avenues in cardiac surgery and interventional cardiology" (Springer-Verlag). He received a doctor of philosophy (Ph.D.) from Paris-Sud University (2011). In 2009 he had the honor of opening the 44th Congress of the European Society for Surgical Research (lecture on ''The history of surgical research"). He held regular teaching appointments, obtained certification by the French Board in cardiac surgery (Paris, 2007), earned his research master in surgical science (Paris, 2007), and received a university diploma in vascular surgery (Paris, 2007). He completed his cardiac surgery residency at the Tor Vergata University of Rome in 2000, and graduated with a degree in medicine from the University of Florence in 1995 (where he attended the Air Force Military Medical Academy), both summa cum laude. He has worked in Brussels, France and Québec. Since 1998 he has written many publications and has worked as a guest reviewer for many international leading journals. He is a member of several Editorial Boards. He patented a new device for cardiac surgery.
Abstract:
Like the history of peoples, wars, geopolitical conflicts, and all great social movements and developments, the history of cardiac surgery must be constantly questioned and reviewed as new documents come to light or new interpretations suggest themselves for old documents. Just as courageous and determined individuals have faced down the forces of nature over the centuries to make history with great explorations of land and sea or amazing discoveries of flight, so too has the indomitable human spirit shaped the history of cardiac surgery. The origins of cardiac surgery are dramatic. It took root in suffering and has developed and evolved through an incalculable number of deaths. It is the product of the effort and abnegation of visionaries who were often criticized and at times dismissed as mad, as well as the despair of patients willing to subject themselves to new and untried procedures in the hope of cheating death. While often disregarded, the history of scientific inquiry has much to teach us. It can establish important links between past and present, providing a better understanding of current practice and charting a more realistic and imaginative path to the future. Before the advent of cardiopulmonary bypass ingenious theories and daring procedures had been devised in order to access the heart and treat myocardial wounds, angina pectoris, valve and ascending aortic diseases, and congenital anomalies. Many old ideas and experiments have fallen by the wayside. However, if released from the technological constraints of their time, some of them could be brought back and explored again with modern tools and enhanced knowledge.
Keynote Forum
Nour Heart Institue, USA
Time : 09:55-10:40

Biography:
Professor Salwa Elgebaly has completed her Master degree from the University of Wisconsin, Madison at age 25 and received her PhD at the age of 28 years from the University of North Carolina at Chapill Hill. She is a former Associate Professor at the University of Connecticut School of Medicine. She is currently the Executive Director of Nour Heart Institue (subsidrary of Nour Heart, Inc.) and her research is aimed at developing cardioprotective therapy for ischemic heart diseases. She wrote a review article on the cardioprotective benefits of Nourexal™ and has published more than 45 papers in reputed journals and is the Inventor of 9 Patents Issued by the U.S. Patent Office.
Abstract:
Myocardial tissue has an extreme sensitivity to ischemia and hypoperfusion. The current available options to address this problem are all directed at restoring tissue perfusion in the myocardium. However, the main mechanism of myocardial ischemia that leads to reduction in cardiac function and irreversible injury is through the exhaustion of the high-energy adenosine triphosphate (ATP). Depletion of ATP during ischemia is one of the major factors that accelerates the apoptotic process of heathy myocardial tissue, leading to tissue progression to necrosis and heart failure.
Our research has demonstrated that reduction of ATP during ischemia also resulted in the rapid release (within 5 minutes) of the potent inflammatory mediator Nourin by ischemic myocardial tissue and coronary arteries. The release of Nourin was associated with early cardiac inflammation characterized by large influx of neutrophils. Our studies also indicated that Nourin purified from human ischemic hearts, is an 'early inflammatory signal' which stimulates leukocyte chemotaxis, adhesion and activation to release high levels of chemokines, cytokines, adhesion molecules and digestive enzymes. Specifically, Nourin stimulates human monocytes to release high levels of tumor necrosis factor- α (TNF-α), which is a major contributor of myocardial apoptosis.
For early reperfusion injury, the first few minutes of reperfusion after ischemic infarct constitute a critical phase that leads to impaired microcirculations and the 'no reflow' phenomenon. Inflammation is central to microcirculation obstruction (MVO) in early reperfusion and also in late reperfusion injury. Since both inflammation and ATP depletion play a key role in MVO and infarct size, we tested the cardioprotective benefits of our patented Nourexal™ therapy in a number of animal models (dogs, rats and rabbits) of ischemia/reperfusion, including: acute myocardial infarction (AMI), global warm cardiac arrest, cardiopulmonary bypass for coronary revascularization and heart transplantation models (prolonged heart preservation and non-heartbeating donor hearts).
As described in Figure 1, we have demonstrated that administrating Nourexal™ (Cyclocreatine Phosphate - CCrP) minutes before ischemia (a) preserved high levels of ATP in ischemic myocardium; (b) reduced myocardial cell injury, acidosis and edema; (c) reduced Nourin formation in the myocardium and its blood levels; (d) reduced post-ischemic cardiac inflammation and apoptosis; and (e) restored immediate strong cardiac contractibility during reperfusion without arrhythmia.
Clinical application is where myocardial ischemia is predictable and pretreatment of patients with Nourexal™ would improve the patients' outcome and quality of life. These include patients undergoing cardiopulmonary bypass for coronary revascularization, heart transplantation and AMI patients undergoing angioplasty procedures / Percutaneous Coronary Intervention (PCI).
For AMI patients, administering Nourexal™ during myocardial infarction and reperfusion will likely (a) protect cardiomyocytes from energy depletion and early inflammation; (b) protect the adequacy of microcirculations; (c) increase the amount of salvaged myocardium; and (d) reduce the progression of the ischemic myocardium to necrosis during the critical first 4 to 6 hours of reperfusion. Furthermore, targeting the early inflammatory mediator Nourin will likely produce the right balance between reducing the early harmful effect of inflammation without affecting its beneficial healing and scar formation.
In summary, we believe that this novel Nourexal™ therapy will provide heart protection against ischemic and reperfusion injury and it will be particularly critical for AMI patients with long transport times to the hospital and for patients who cannot get timely pharmacologic or mechanical revascularization. This early protection will likely reduce the incidence of chronic heart failure and improve the patients' outcome and quality of life.
Figure 1: Proposed Mechanism of Action of of NourRx™ (Cyclocreatine Phosphate - CCrP) and Cyclocreatine (CCr)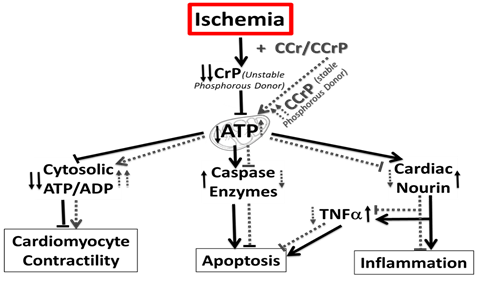 Break:
Group Photo: 10:40-10:45 @ Avila
Networking and Refreshments Break: 10:45-11:00 @ Salamanca