Day 1 :
Keynote Forum
San Camillo-Forlanini Hospital, Rome
Time : 09:10-09:55

Biography:
Marco Piciche (MD, Ph.D.) is a cardiac surgeon at San Camillo-Forlanini Hospital in Rome. In 2012 he was the Editor in Chief of the book "Dawn and evolution of cardiac procedures: research avenues in cardiac surgery and interventional cardiology" (Springer-Verlag). He received a doctor of philosophy (Ph.D.) from Paris-Sud University (2011). In 2009 he had the honor of opening the 44th Congress of the European Society for Surgical Research (lecture on ''The history of surgical research"). He held regular teaching appointments, obtained certification by the French Board in cardiac surgery (Paris, 2007), earned his research master in surgical science (Paris, 2007), and received a university diploma in vascular surgery (Paris, 2007). He completed his cardiac surgery residency at the Tor Vergata University of Rome in 2000, and graduated with a degree in medicine from the University of Florence in 1995 (where he attended the Air Force Military Medical Academy), both summa cum laude. He has worked in Brussels, France and Québec. Since 1998 he has written many publications and has worked as a guest reviewer for many international leading journals. He is a member of several Editorial Boards. He patented a new device for cardiac surgery.
Abstract:
Like the history of peoples, wars, geopolitical conflicts, and all great social movements and developments, the history of cardiac surgery must be constantly questioned and reviewed as new documents come to light or new interpretations suggest themselves for old documents. Just as courageous and determined individuals have faced down the forces of nature over the centuries to make history with great explorations of land and sea or amazing discoveries of flight, so too has the indomitable human spirit shaped the history of cardiac surgery. The origins of cardiac surgery are dramatic. It took root in suffering and has developed and evolved through an incalculable number of deaths. It is the product of the effort and abnegation of visionaries who were often criticized and at times dismissed as mad, as well as the despair of patients willing to subject themselves to new and untried procedures in the hope of cheating death. While often disregarded, the history of scientific inquiry has much to teach us. It can establish important links between past and present, providing a better understanding of current practice and charting a more realistic and imaginative path to the future. Before the advent of cardiopulmonary bypass ingenious theories and daring procedures had been devised in order to access the heart and treat myocardial wounds, angina pectoris, valve and ascending aortic diseases, and congenital anomalies. Many old ideas and experiments have fallen by the wayside. However, if released from the technological constraints of their time, some of them could be brought back and explored again with modern tools and enhanced knowledge.
Keynote Forum
Nour Heart Institue, USA
Time : 09:55-10:40

Biography:
Professor Salwa Elgebaly has completed her Master degree from the University of Wisconsin, Madison at age 25 and received her PhD at the age of 28 years from the University of North Carolina at Chapill Hill. She is a former Associate Professor at the University of Connecticut School of Medicine. She is currently the Executive Director of Nour Heart Institue (subsidrary of Nour Heart, Inc.) and her research is aimed at developing cardioprotective therapy for ischemic heart diseases. She wrote a review article on the cardioprotective benefits of Nourexal™ and has published more than 45 papers in reputed journals and is the Inventor of 9 Patents Issued by the U.S. Patent Office.
Abstract:
Myocardial tissue has an extreme sensitivity to ischemia and hypoperfusion. The current available options to address this problem are all directed at restoring tissue perfusion in the myocardium. However, the main mechanism of myocardial ischemia that leads to reduction in cardiac function and irreversible injury is through the exhaustion of the high-energy adenosine triphosphate (ATP). Depletion of ATP during ischemia is one of the major factors that accelerates the apoptotic process of heathy myocardial tissue, leading to tissue progression to necrosis and heart failure.
Our research has demonstrated that reduction of ATP during ischemia also resulted in the rapid release (within 5 minutes) of the potent inflammatory mediator Nourin by ischemic myocardial tissue and coronary arteries. The release of Nourin was associated with early cardiac inflammation characterized by large influx of neutrophils. Our studies also indicated that Nourin purified from human ischemic hearts, is an 'early inflammatory signal' which stimulates leukocyte chemotaxis, adhesion and activation to release high levels of chemokines, cytokines, adhesion molecules and digestive enzymes. Specifically, Nourin stimulates human monocytes to release high levels of tumor necrosis factor- α (TNF-α), which is a major contributor of myocardial apoptosis.
For early reperfusion injury, the first few minutes of reperfusion after ischemic infarct constitute a critical phase that leads to impaired microcirculations and the 'no reflow' phenomenon. Inflammation is central to microcirculation obstruction (MVO) in early reperfusion and also in late reperfusion injury. Since both inflammation and ATP depletion play a key role in MVO and infarct size, we tested the cardioprotective benefits of our patented Nourexal™ therapy in a number of animal models (dogs, rats and rabbits) of ischemia/reperfusion, including: acute myocardial infarction (AMI), global warm cardiac arrest, cardiopulmonary bypass for coronary revascularization and heart transplantation models (prolonged heart preservation and non-heartbeating donor hearts).
As described in Figure 1, we have demonstrated that administrating Nourexal™ (Cyclocreatine Phosphate - CCrP) minutes before ischemia (a) preserved high levels of ATP in ischemic myocardium; (b) reduced myocardial cell injury, acidosis and edema; (c) reduced Nourin formation in the myocardium and its blood levels; (d) reduced post-ischemic cardiac inflammation and apoptosis; and (e) restored immediate strong cardiac contractibility during reperfusion without arrhythmia.
Clinical application is where myocardial ischemia is predictable and pretreatment of patients with Nourexal™ would improve the patients' outcome and quality of life. These include patients undergoing cardiopulmonary bypass for coronary revascularization, heart transplantation and AMI patients undergoing angioplasty procedures / Percutaneous Coronary Intervention (PCI).
For AMI patients, administering Nourexal™ during myocardial infarction and reperfusion will likely (a) protect cardiomyocytes from energy depletion and early inflammation; (b) protect the adequacy of microcirculations; (c) increase the amount of salvaged myocardium; and (d) reduce the progression of the ischemic myocardium to necrosis during the critical first 4 to 6 hours of reperfusion. Furthermore, targeting the early inflammatory mediator Nourin will likely produce the right balance between reducing the early harmful effect of inflammation without affecting its beneficial healing and scar formation.
In summary, we believe that this novel Nourexal™ therapy will provide heart protection against ischemic and reperfusion injury and it will be particularly critical for AMI patients with long transport times to the hospital and for patients who cannot get timely pharmacologic or mechanical revascularization. This early protection will likely reduce the incidence of chronic heart failure and improve the patients' outcome and quality of life.
Figure 1: Proposed Mechanism of Action of of NourRx™ (Cyclocreatine Phosphate - CCrP) and Cyclocreatine (CCr)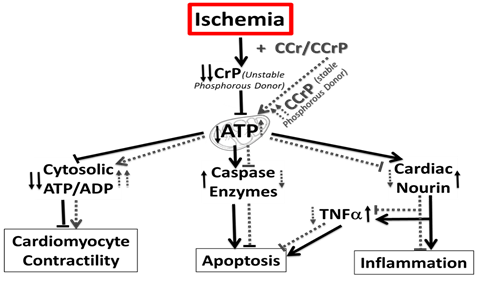 Break:
Group Photo: 10:40-10:45 @ Avila
Networking and Refreshments Break: 10:45-11:00 @ Salamanca
Clinical Cardiology | Cardiovascular Research | Cardiac Diseases
Location: Madrid, Spain
Chair
Ersoz Gonca
Bulent Ecevit University, Turkey
Co-Chair
Marco Piciche
San Camillo-Forlanini Hospital, Rome
Session Introduction
Hospital Universitario Central de Asturias, Spain
Time : 11:00-11:30

Biography:
Dr. Avanzas graduated from Universidad de Navarra with full honours in 1998 and passed the Postgraduate Board in Cardiovascular Diseases at Gregorio Marañón Hospital in 2004. He took up a Spanish Heart Foundation Research Fellowship at Coronary Artery Research Unit, St. George´s Hospital Medical School in London and some months after that he was appointed as Associate Research Investigator of the Cardiovascular Biology Research Centre at St. George´s Hospital in London. He is Interventional Cardiologist at Hospital Universitario Central de Asturias in Oviedo, Spain, and author of more than 170 publications on peer reviewed journals. He was Associate Editor of "Revista Española de Cardiología" and member of several editorial boards.
Abstract:
Increasingly, cardiac biomarkers have provided important information in predicting short-term and long-term risk pro les in patients with acute coronary syndromes (ACS), particularly when they are used in combination. Among the numerous biomarkers, high-sensitivity C-reactive protein (hsCRP) has received widespread interest and a large database has been accumulated on their potential role as predictor of cardiovascular events. Macrophage activation, as shown by elevated levels of neopterin and GDF-15 (Growth diferentiation factor-15), has a key role in all phases of the atherothrombotic process. Neopterin is a pteridine that modulates intracellular redox state (NOS) and activates the expression of proinflammatory genes. Evidence gathered in recent years indicate that neopterin may be a useful tool in the assessment of cardiovascular risk in both apparently healthy subjects and patients with stable and unstable coronary artery disease. GDF-15 is one of more than 40 members of the transforming growth factor-𝛽 superfamily and it was originally identified in activated macrophages. Accumulating evidence indicate that circulating levels of GDF-15 are associated with the risk of death and myocardial infarction, independent of clinical variables and other biomarkers, including hsCRP and cardiac troponins.
Karolinska Institute, Sweden
Time : 11:30-12:00

Biography:
Mizanur Rahman has completed MSc in Biotechnology from The Royal Institue of Technology, Stockholm, Sweden and MSc in Molecular life science from Stockholm University, Stockholm, Sweden. At present he is a PhD student at Karolinska Institutet, Sweden. Since several years he is working on cardiovascular diseases and he has important findings on this area.
Abstract:
Cardiovascular diseases are defined as disorder or diseases of the heart and blood vessels. Atherosclerosis is one of major causes of cardiovascular disease development. Immune cells, including T-cells play an important role in the disease pathogenesis. Heat shock protein 60 (HSP 60) has been shown to be involved in cardiovascular diseases. This protein is expressed in response to heat or toxic effect to the cells, but elevated level of HSP 60 can be deleterious, including heart failure. However, antigenicity and immune response against HSP 60 are unclear.
Here, HSP 60 stimulated dendritic cells (DCs) were co-cultured with autologous peripheral blood T-cells. In addition, DCs generated from peripheral blood of atherosclerotic patients were also stimulated and co-cultured with atherosclerotic plaque T-cells. Further, HSP 60 stimulated DCs were co-culture with T-cell with or without anti-HLA II blocking antibodies. Immunophenotyping and cytokines profile was measured by flow cytometry and ELISA respectively.
We showed that HSP 60 induced DCs activation and Th1 cell activation through DCs, also induced inflammatory cytokines secretion, where the affect was inhibited by HLA-II blocking.
Studies suggest HSP60 as a co-stimulatory factor but our observation shows that HSP 60 is also a T cell antigen and it activates Th1 cells in atherosclerotic plaque.
King's College London, UK
Time : 12:00-12:30

Biography:
Dr Lingfang Zeng has completed his PhD at the age of 27 years from Beijing Normal University, China. He is now a Senior Lecturer in the Cardiovascular Division, Faculty of Life Science and Medicine, King's College London. He has published more than 40 papers in reputed journals and has been serving as an editorial board member of repute.
Abstract:
Histone deacetylase 7 (HDAC7) belongs to the class II HDAC family and plays a pivotal role in the maintenance of endothelium integrity. There are 8 splicing variants in mouse HDAC7 mRNAs. Within the 5' terminal non-coding area of some variants, there exist some short open reading frames (sORFs). Whether these sORFs can be translated and whether the resulting peptides play roles in cellular physiology remain unclear. In this study, we demonstrated that one sORF encoding a 7-amino-acid (7-aa) peptide could be translated in vascular progenitor cells (VPCs). Importantly, this 7-aa peptide (7A) could transfer the phosphate group from the phosphorylated Ser393 site of MEKK1 to the Thr145 site of 14-3-3γ protein. The phosphorylated 7A (7Ap) could then directly phosphorylate 14-3-3γ protein in a cell-free, in-gel buffer system. In vitro functional analyses revealed that 7A and 7Ap increased VPC self-renewal and migration and enhanced vascular endothelial growth factor (VEGF)-induced VPC migration and differentiation toward the endothelial cell (EC) lineage, in which MEKK1 and 14-3-3γ served as the upstream kinase and the downstream effector, respectively. Knockdown of either MEKK1 or 14-3-3γ attenuated VEGF-induced VPC migration and differentiation. Exogenous 7Ap could rescue the effect of VEGF on the MEKK1 siRNA-transfected VPCs but not on the 14-3-3γ siRNA-transfected VPCs. In vivo studies revealed that 7A, especially 7Ap, induced capillary vessel formation in Matrigel plug assays, increased re-endothelialization and suppressed neointima formation in the femoral artery injury model, and promoted foot blood perfusion recovery in the hindlimb ischemia model by increasing Sca1+ cell niche formation. These results indicate that the sORFs within the non-coding area can be translated and that 7A may play an important role in cellular processes, such as proliferation, migration and differentiation, by acting as a phosphorylation carrier.
Universitari Germans Trias i Pujol, Spain
Time : 12:30-13:00

Biography:
Sara Badia is a Cardiac Surgeon trained in Madrid, who completed her training visiting numerous important centers in USA like the Cleveland Clinic (under the direction of Dr. Sabik) or the Children´s National Medical Center in Washington D. C. (Dr. Jonas), and also in Europe like Allgemeines Krankenhaus (AKH) in Vienna (Prof Laufer, Prof Kocher), and off pump coronary artery bypass grafting (OPCABG) training in Leuven Belgium with Prof. Paul Sergeant.
She is a surgeon who loves improving and be updated in the latest techniques like minimally invasive aproaches and last generation valves. Actually, she is working in Barcelona, in one of the National hospitals where Perceval S bioprosthesis is usually used. This publication try to solve some doubts about the use of this prosthesis.
Abstract:
Background / Study Objective:Coronary artery disease is common in patients who undergo an aortic valve replacement.Concomitant coronary artery bypass grafting (CABG) procedure does not necessarily contradict with the use of last generation sutureless bioprosthesis, but, publications about this combined approach are very scarce.
The objective of this study is to describe the results of aortic valve replacement with Perceval S bioprosthesis with concomitant CABG in our Center.
Methods: From our database we retrospectively described the outcomes of 42 patients who underwent aortic valve replacement with a last generation sutureless bioprosthesis (Perceval S) with CABG at the same procedure.It was used as graft: left internal mammary artery (LIMA), right internal mammary artery (RIMA), radial artery and safena vein.
From 1 to 3 arteries were revascularized per patient.
Mean age: 78,19±5,1. They were mostly man (women 35,7%).
Cardiovascular risk factors: Hipertension 97,6%; Diabetes 38,1%, obstructive pulmonary disease 21,4% of the patients.
Mean Logistic EuroScore II 10,73%.
Results. Table 1: Surgical Outcomes
Results. Table 2: Complications
Conclusions: Excellent results were achieved in patients undergoing aortic valve replacement with Perceval S sutureless bioprosthesis and concomitant coronary artery bypass grafting. Although high aortotomy is needed for Perceval S implantation, is possible to perform CABG also with safena vein if necessary in a safely way.Perceval S is a feasible alternative for patients with aortic valve stenosis and coronary heart disease, shortening the crossclamp time, extracorporeal circulation time and comorbidities derived therefrom.
Break:
Lunch Break: 13:00-14:00 @ Salamanca
Bulent Ecevit University, Turkey
Time : 14:00-14:30

Biography:
Ersöz GONCA has completed his PhD in 2008 from Abant İzzet Baysal University and postdoctoral studies from Robert Gordon University, the Institute of Health and Welfare Research in 2012. He is studying on ischemia/reperfusion-induced ventricular arrhythmias and myocardial injury. He has been conducting his researches in Bülent Ecevit University, Biology Department since 2009.
Abstract:
Background/Introduction:4ı-(N-(4-acetamidobenzyl))-2,2-dimethyl-2,3-dihydro-5ıH-spiro[chromene-4,2ı-[1,4]oxazinan]-5ı-one (compound A) was synthesized as a new spiro-cyclic benzopyran activator of the cardiac mitochondrial ATP-dependent potassium (mitoKATP) channels. A previous study showed the anti-ischemic properties of Compound A (1).
Purpose: This study was performed to research the effect compound A on ischemia/reperfusion (I/R)-induced ventricular arrhythmias. In our previous study, we suggest that both mitoKATP channel activation and sarcolemmal ATP-dependent potassium (sarcKATP) channel inhibition confer protection against I/R-induced arrhythmias (2); therefore, we also aimed to test the hypothesis that a combination of mitoKATP channel activation and sarcKATP channel inhibition may be even more effective at decreasing ventricular arrhythmias.
Methods: We performed myocardial I/R by ligating the left main coronary artery for 6 minutes followed by loosening the bond at the coronary artery for 6 minutes in anesthetized rats. The experimental groups were as follows: (1) Vehicle control, (2) Compound A (3 mg/kg) (3) Compound A (10 mg/kg.) (4) Diazoxide (5) HMR 1098 (6) Compound A (10 mg/kg)+HMR 1098, and (7) Diazoxide+HMR 1098 group.
Results: Compoud A at a dose of 10 mg/kg decreased both the arrhythmia score and the total length of arrhythmias (P<0.01). Diazoxide at a dose of 40 mg/kg, a selective mitoKATP channel opener as a reference drug only decreased the total length of arrhythmias (P<0.01). Compound A at a dose of 10 mg/kg was more effective at decreasing the duration of arrhythmias than a dose of 3 mg/kg of compound A and diazoxide. The combination of both diazoxide and compound A with HMR 1098, a selective sarcKATP channel blocker, did not exhibit any additive or synergic effect on the antiarrhythmic effect of each drug alone.
Conclusion (s): These results reveal that compound A may have a dose-dependent antiarrythmic effect, which is more pronounced than the antiarrhythmic effect of diazoxide. Both mitoKATP channel activation and sarcKATP channel inhibition at the same time may not reveal any additive antiarrhythmic effect on I/R-induced arrhythmias.
Makati Medical Center, Philippines
Time : 14:30-15:00

Biography:
Ryan D. Andal has completed his College at the age of 18 years from De La Salle University Manila with a degree in Medical Physics and postdoctoral studies from University of Santo Tomas , Manila. He trained in internal medicine at the Makati Medical Center and his 3rd year of fellowship in cardiology. He is board certified in Internal Medicine and plans to pursue interventional cardiology after his fellowship training.
Abstract:
Coronary subclavian steal syndrome is a rare disorder, mostly unrecognized and underdiagnosed , seen in patients developing subclavian artery (SA) stenosis after Coronary Artery Bypass Graft (CABG) using the LIMA –LAD graft diverting blood flow from the native coronary LAD back to the graft LIMA –LAD into the subclavian artery in a retrograde fashion. This is also the same for the vertebral artery where blood is diverted back from the brain into the subclavian artery.
This disorder causes significant symptoms which is brought about by ischemia coming from the heart, left upper extremity and the brain . It is a catastrophic event where only very few case reports have been described and reported .Moreover, it has been also described that a coronary steal from a LIMA graft post CABG can present as angina while undergoing hemodialysis. This phenomenon is documented through cardiac catheterization with evidence blood flow steal from the internal mammary artery graft while on dialysis, without subclavian subclavian artery stenosis.
This is a case report of a patient with coronary-subclavian steal syndrome caused by a proximal subclavian artery stenosis in a post CABG patient with a LIMA-LAD graft aggravated by ongoing dialysis using AV fistula on the left arm. A combination f 2 phenomena that can lead to detrimental outcome if not treated appropriately though revascularization.
Jaswant Rai Speciality Hospital, India
Time : 15:00-15:30

Biography:
Dr. Rajeev Agarwala is DM Cardiology from GB pant Hospital New Delhi india 1990 and chairs the department of cardiology at Jaswant Rai Speciality Hospital Meerut. He is an active clinician with bulk experience in invasive cardiology. He holds the Limca book of record for India for implanting free pacemaker. He has published more than 20 papers and review articles in various journals and actively pursues vascular biology and statinology.
Abstract:
This is a review kind of presentation featuring evolution of statins usage form total cholesterol reduction to LDL reduction Hypothesis. Its documented effects in reducing cardiovascular mortality. It rationalizes European view of chasing LDL numbers rather than high blanket dose of statin, an american view. It also emphasizes death of HDL manipulation era and why it failed. Pleiotropic effects are also questionable. The talk will position ezetimibe and PCSK9 in current medical practices and will also feature legacy effects of statin and progressive calcification with its usage. The presentation ends with inspiration from existing guidelines. The talk will be of immense use to clinician.
The National Hospital of Sri Lanka, Sri Lanka
Time : 15:30-16:00

Biography:
Dr. (Mrs) NHG Seneviratne, MBBS (Sri Lanka), MD Medicine (Colombo). – She obtained MD Medicine from Post Graduate Institute of Medicine, University of Colombo in 2013. Currently she is undergoing post doctoral training in Cardiology at Institute of Cardiology NHSL. She has published four papers in local forums and one poster presentation which won the gold medal for best poster in 2010. She has done oral and poster case presentations at Asian Interventional Cardiovascular Therapeutices Congress 2015, Dhaka, Bangladesh. She works as a sub inspector in ODYSSEY and TRIUMPH multi centre clinical trails and a resource person in frailty study.
Abstract:
CABG is one of the treatment options for the patients with coronary artery disease (CAD). This study was aimed to describe survival up to occurrence of cardiac events and factors associated with them among CABG patients at NHSL.
Retrospective analytical study was carried out among the patients who had undergone CABG at least one year before the date of data collection. Cardiac event was defined as new occurrence of any condition namely; unstable angina (UA), ST elevated myocardial infarction (STEMI), non ST elevated myocardial infarction (NSTEMI) and heart failure (HF). Survival was assessed up to the defined cardiac events.
The sample (n=421) consists 74.6% males and mean age was 63.16years (SD = 7.86). Event rates were UA (13.3%), STEMI (0.5%), NSTEMI (3.1%) and heart failure (8.6%). Kaplan-Mayer survival analysis revealed the probability of survival at 5 years was 79.6% (CI 0.781-0.871) and 10 year was 58.1% (CI 0.516- 0.688). Cox regression revealed significant associations with age (HR- 0.973, p=0.023), family history (FH) of hypertension (HR-2.2, p=0.044) compared to negative family history and activities of daily living (ADL) independency (HR=0.16, p= 0.011) compared to the ADL dependency.
CABG surgery reserves its own place in management of CAD. Sri Lankan survival data of CABG patients seems to be similar to other countries of the world. Age, status of ADL prior to CABG and family history of hypertension were significantly associated with survival.
Break:
Networking and Refreshments Break: 16:00-16:15 @ Salamanca
Bulent Ecevit University, Turkey
Time : 16:15-16:45
Biography:
Ersoz Gonca has completed his PhD in 2008 from Abant İzzet Baysal University and postdoctoral studies from Robert Gordon University, the Institute of Health and Welfare Research in 2012. He is studying on ischemia/reperfusion-induced ventricular arrhythmias and myocardial injury. He has been conducting his researches in Bülent Ecevit University, Biology Department since 2009.
Abstract:
Backgroud/Introduction: Cannabidiol (CBD) is a nonpsychoactive phytocannabinoid with anti-inflammatory activity mediated by enhancing adenosine signaling [1,2]. As the adenosine A1 receptor activation confers protection against ischemia reperfusion (I/R)-induced ventricular arrhythmias, we hypothesized that CBD may have anti-arrhythmic effect through the activation of adenosine A1 receptor.

Purpose: We aimed to research the effect of CBD on the incidence and the duration of ischemia reperfusion (I/R)-induced ventricular arrhythmias, and to investigate the role of adenosine A1 receptor activation in the possible antiarrhythmic effect of CBD.

Methods: Myocardial ischemia and reperfusion were induced in anesthetized male rats by ligating the left anterior descending coronary artery for 6 minutes and by loosening the bond at the coronary artery, respectively. CBD alone was given in a dose of 50µg/kg, 10 minutes prior to coronary artery occlusion and co-administrated with adenosine A1 receptor antagonist 8–Cyclopentyl-1,3-dipropylxanthine (DPCPX) in a dose of 100µg/kg, 15 min prior to coronary artery occlusion to investigate whether the antiarrhythmic effect of CBD is modified by the activation of adenosine A1 receptors. The experimental groups were as follows (1) vehicle control (n = 10), (2) CBD (n= 9), (3) DPCPX (n= 7), and (4) CBD+ DPCPX group (n = 7).

Results: CBD treatment significantly decreased the incidence and the duration of ventricular tachycardia (VT), total length of arrhythmias and the arrhythmia scores compared to control during the reperfusion period. DPCPX treatment alone did not affect the incidence and the duration of any type arrhythmias. However, DPCPX aborted the antiarrhythmic effect of CBD when it was combined with it. Any drug treatments affect neither QT nor QRS intervals prior to and during the ischemic period.

Conclusion (s): The present results demonstrate that CBD has an antiarrhythmic effect against I/R-induced arrhythmias and the antiarrhythmic effect of CBD may be mediated through the activation of adenosine A1 receptor. The underlying mechanism of the antiarrhythmic effect of CBD may not depend on its direct electrophysiological effect. The present results support the notion that endogenously released adenosine does not significantly affect the occurrence of ventricular arrhythmias via the activation of adenosine A1 receptor.
Asian Institute of Medical Sciences, India
Time : 16:45-17:15

Biography:
Hariharan is doing DNB postgraduation in internal medicine and research in nephrology, cardilogy, infectious diseases and diabetology. He has published papers in national and international journals and attended various conferences for oral and poster presentations.
Abstract:
Introduction: Indian patients have higher incidence of cardiac diseases inspite of the conventional risk factors comparable to western counterpart.The increased excess cardiac risk in Indians as compared to western population remains unexplained. Low serum vitamin B 12 and high serum homocysteine levels are known predictors of cardiovascular mortality and are highly frequent in Indians . Our present study was taken to ascertain whether these two factors are responsible for excess cardiac risk in indians.
Aim of the study : We in our study aimed to study subjects with AMI in whom most of the known risk factors for cardiovascular disease are absent but were deficient in vitamin B12 or having high S. homocysteine levels and correlate the two parameters.
Material and Methods: Subjects presenting to our Asian tertiary care hospital who were having first time MI(naive)patients without any cardiac disease or any treatment and without any family history .All patients with STEMI less than 12hours of duration and no past history of cardiac disease/DM/HTN/Dyslipidemia were included.After obtaining written informed consent ,detailed history was sought and subjects were again evaluated for routine laboratory biochemical parameters including Serum vitamin B12 levels and serum homocysteine levels, coronary angiography and ECHO. 100 Subjects who were found to be suffering from AMI were included as cases , and 20 subjects showing symptoms of chest pain but lacking any elevation in CK total or CK MB , no changes on ECG and normal ECHO and angiographic findings were included as controls.
Results: Various risk factors of AMI including Age, non vegetarian diet, DM, HTN, Family history, BMI, Dyslipidemia, Low HDL, High TG, LDL, Cholesterol were found to be lower in cases compared to controls. Serum vitamin B 12 levels were found to be significantly lower(<0.0001) and serum homocysteine levels(<0.0001) were significantly higher in cases. Further Weak downhill (r=-0.367) but significant correlation was noted between S. Vit B 12 and S. Homocystein levels. Also significant association was noted between low s. Vit. B12 and high homocysteine and Acute MI. ROC curve was plotted to evaluate predictive value of parameters for AMI. Vitamin B12 was found to have AUC of 96.2 % and sensitivity of 95% and specificity of 100 % at cut off value lower than 360 pg/L. Also Serum homocysteine was found to have AUC of 93.2 % and sensitivity of 86% and specificity of 100 % at cut off value higher than 25.3 mcg/L.
Conclusion: In individuals especially younger age group(20-30years) who lack conventional risk factors/family history of coronary artery disease, low serum vitamin B12 levels and high serum homocysteine levels pose significant risk of heart disease. Serum vitamin B12 and serum homocysteine levels should be regularly assessed to predict the risk of AMI in subjects with lack of other risk factors along with dietary and lifestyle changes.
Mirano General Hospital, Italy
Time : 17:15-17:45

Biography:
Riccardo Turri graduated with the best ratings at Padua University in Italy; he was always engaged in studying and applying into invasive cardiology and acute cardiologic care. His competences include coronary angioplasty, bifurcation lesions, coronary imaging and functional assessment, limb and BTK angioplasty. In the last 3 years, he worked as an interventional cardiologist at Mirano General Hospital, near Venice, Italy.
Abstract:
Background: The socio-economic impact of multi-district atherosclerotic disease is elevated for frequent hospitalizations and morbidity/mortality.
Aim: Assess clinical characteristics, angiographic findings, therapeutic strategy and outcome of patients hospitalized with a concomitant diagnosis of coronary artery and carotid obstructive diseases.
Methods: We evaluated all patients hospitalized from 2006 to 2012. Revascularization strategies were hybrid (carotid stenting CAS and cardiac surgery CABG) or totally endovascular (coronary angioplasty PCI and CAS).
Results: 107 patients were enrolled, 42.1% were hospitalized for carotid obstructive disease (groupA), and 57.9% for coronary artery disease (groupB). Patients were treated with PCI and staged CAS in 28% of cases (15.6% in groupA, 37.1% in groupB), with CAS and staged PCI in 21.5% of cases (46.7% in groupA, 3.2% in groupB), with CAS and simultaneous CABG in 39.3% of cases (24.4% in groupA, 50% in groupB) and with PCI and simultaneous CAS in 11.2% of cases (13.3% in groupA, 9.7% in groupB). 30-days results: Mortality 0%, major/minor stroke 3.7% (2.2% in groupA, 4.8% in groupB), myocardial infarction 2.8% (0% in groupA, 4.8% in groupB), major bleeding 5.6% (2.2% in groupA, 8.1% in groupB). Major bleeding affected only patients with acute symptoms and 11.9% of patients following CABG. Follow-up results: Cardiovascular mortality 4.7% (2.2% in groupA, 6.5% in groupB), all-cause mortality 2.8% (4.4% in groupA, 1.6% in groupB), stroke 0.9% (2.2% in groupA, 0% in groupB), myocardial infarction 2.8% (4.4% in groupA, 1.6% in groupB). The only predictor of mortality at follow-up was the in-hospital stroke (HR 7.6 for all-cause mortality, 16.5 for cardiovascular mortality).
Conclusions: Patients with concomitant coronary artery disease and carotid obstructive disease were treated with a high procedural success, following a hybrid or totally endovascular revascularization. Patients hospitalized in an acute setting have more strokes and bleedings at 30 days; these patients need therefore most careful assessment and treatment.
Image